Thursday, March 31, 2011
International rights organisations have called for the immediate release of an editor of a website critical of the Sri Lankan government.
Bennett Rupasinghe, News Editor of LankaeNews was remanded by courts following his arrest by the Wellampitiya police on Thursday.
Media watchdog Reporters Without Borders (RSF) said that he should be released immediately.
RSF research coordinator Gilles Lordet speaking to BBC Sandeshaya said, "this can be seen as part of ongoing harassment against the LankaeNews".
Bennett 'threatned a man'
The Paris based organisation had earlier made an international appeal for help in finding the means to guarantee the physical safety of LankaeNews' journalists.
Part of ongoing harassment against the LankaeNews

RSF
Police spokesman Prishantha Jayakody says Bennett Rupasinghe, was arrested following a complaint that he had threatened a man by telephone.
Sunil Jayasekara, convener of the group Free Media Movement, says the arrest was made on questionable grounds and is an attempt to silence dissenting media.
"This clearly shows the government is misusing police and judicial powers in addition to extra legal methods against independent media in stifling dissent," said Journalists for Democracy in Sri Lanka (JDS).
Amnesty International's researcher Yolanda Foster called the arrest 'a misuse of executive authority'.
Committee to Protect Journalists (CPJ) says that this situation cries out for immediate international support.
"Given that its editor is in exile, its office recently gutted by fire, and its political cartoonist 'disappeared' for more than a year, the threat to the safety of its remaining staff are clear," said Bob Dietz, CPJ's Asia program coordinator.
'Sinister motives'
Maithree Gunarathne, leading the lawyers team representing LankaeNews told journalists accused the government of 'sinister motives' in harassing journalists.
Government is misusing police and judicial powers in addition to extra legal methods

JDS
Prageeth Eknaligoda, a cartoonist working with the website had disappeared over a year ago. His wife has asked for UN intervention to find him after the Sri Lankan government has been unable to provide any information.
In January the LankaeNews office in the Colombo suburbs came under an arson attack. Media organisations have expressed scepticism about the two suspects who have been taken into custody.
The chief editor of LankaeNews has already fled the country and is living in exile.
Sri Lanka is ranked 158th out of 178 countries in the latest Reporters Without Borders press freedom index.
Wednesday, March 30, 2011
How Gandhi Became Gandhi
By GEOFFREY C. WARD
Published: March 24, 2011
Some years ago, the British writer Patrick French visited the Sabarmati ashram on the outskirts of Ahmedabad in the Indian state of Gujarat, the site from which Mahatma Gandhi led his salt march to the sea in 1930. French was so appalled by the noisome state of the latrines that he asked the ashram secretary whose job it was to clean them. A sweeper woman stopped by for an hour a day, the functionary explained, but afterward things inevitably became filthy again.
But wasn't it a central tenet of the Mahatma's teachings that his followers clean up after themselves?
"We all clean the toilets together, on Gandhiji's birthday," the secretary answered, "as a symbol to show that we understand his message."
Gandhi had many messages, some ignored, some misunderstood, some as relevant today as when first enunciated. Most Americans — many middle-class Indians, for that matter — know what they know about the Mahatma from Ben Kingsley's Academy Award-winning screen portrayal. His was a mesmerizing performance, but the script barely hinted at the bewildering complexity of the real man, who was at the same time an earnest pilgrim and a wily politician, an advocate of celibacy and the architect of
satyagraha
(truth force), a revivalist, a revolutionary and a social reformer.
It is this last avatar that interests Joseph Lelyveld most. "Great Soul" concentrates on what he calls Gandhi's "evolving sense of his constituency and social vision," and his subsequent struggle to impose that vision on an India at once "worshipful and obdurate." Lelyveld is especially qualified to write about Gandhi's career on both sides of the Indian Ocean: he covered South Africa for The New York Times (winning a Pulitzer Prize in 1986 for his book about apartheid,
"Move Your Shadow"
), and spent several years in the late 1960s reporting from India. He brings to his subject a reporter's healthy skepticism and an old India hand's stubborn fascination with the subcontinent and its people.
Full Story>>>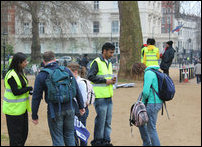 [TamilNet, Wednesday, 30 March 2011, 11:26 GMT]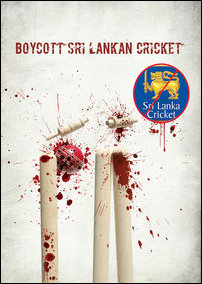 Using as context the quarter final of the Cricket World Cup between co-hosts Sri Lanka and England, the TYO-UK (Tamil Youth Organisation) on Saturday conducted an awareness campaign on Sri Lanka in London, on a day marked by huge protest by the TUC (Trade Union Congress) against public spending cuts. As up to a reported 500,000 demonstrators marched through central London, TYO members on the periphery handed out leaflets and gathered signatures for a postcard campaign calling on the England and Wales Cricket Board (ECB) to boycott Sri Lanka as a sporting partner. The effort is part of a wider campaign to encourage international boycott of Sri Lanka as a tourist destination and as a producer of goods, TYO said. The Sri Lankan cricket team is due to tour England this summer.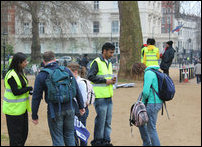 "It is repugnant that a team representing Sri Lanka, a state which has slaughtered over 40,000 civilians in the space of a few months [in 2009], is allowed to play in England."
TYO activists fanned out throughout the West End of London, from Knightsbridge where they lobbied shoppers outside Harrods luxury department store, to Hyde Park, where the TUC rally was taking place and the main thoroughfare of Piccadilly.
The activists said they received positive feedback from the general public, including many crickets fans amongst the marchers..
"Of course we support England. We are British and Tamil, none of us would even dream of supporting Sri Lanka [in the tournament]. We have nothing to do with a Sri Lankan identity," Ms. Skanthatheva told reporters awaiting the address to the TUC rally by main opposition Labour Party leader Ed Miliband.
Asked if it was appropriate to mix sports and politics and to censor sportspeople for their governments' conduct, Ms. Skanthatheva, referring to the examples of Apartheid South Africa and Zimbabwe, replied that historically sports boycotts have been powerful signals to repressive states of international rejection of their abuses.
"Sport and politics are inseparable. Above all else, sports events legitimise a country. It promotes the perception that the country is without problems [and that] its government's conduct is acceptable by international standards."
"Sport is not just a past time. We cannot protest about war crimes against civilians one minute and cheer for sports teams from that state next. Is it right to welcome sports teams representing Libya to international sports fora today?"
Participants at two other demonstrations on Piccadilly in support of pro-democracy movements in Libya and Syria respectively, signed postcards and added TYO's 'Boycott Sri Lanka' placards to theirs, TYO activists said.
Ms. Skanthatheva said the TYO was under no illusion about the difficulty in organising a sporting boycott, but was undeterred. She referred to the long struggle for this against Apartheid South Africa.
"A handful of South African activists first began agitating for a boycott of goods and sports in the early sixties, but especially amid the politics of the Cold War, international action only became reality in the seventies, and then only slowly," she said.
"The world is a now a lot smaller than it used to be. And issues of human rights, state violence, and popular rights are at the forefront of international politics as never before."
"And we are in it for the long haul," the Tamil activist said.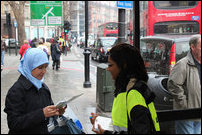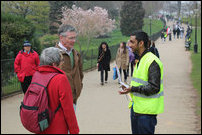 Full story >>
Tuesday, March 29, 2011
Charles Haviland
BBC Colombo
People of the north have been deprived for thirty years of everything that is taken for granted in Colombo, Captain of Sri Lankan cricket team Kumar Sangakkara told the media.
we owe them our very lives and all the comforts we enjoy
One of England's all-time cricketing greats, Sir Ian Botham, described post-war northern Sri Lanka as a scene of devastation after paying his first visit to the region.
Regeneration and reconciliation
But Sangakkara and Botham also spoke of their hope that the north could be redeveloped as prominent cricketers launched a community initiative to bring sports facilities to help regenerate and reconcile the communities there.
After his trip, which he made with the great Sri Lankan bowler Muttiah Muralitharan and the former England captain Michael Vaughan, Botham told the BBC of his shock at what he saw.
nd reconcile the communities there.
Sometimes Colombo seemed a world away from the war. We've never felt it as much as the communities in the North and East did

Kumar Sangakkara
After his trip, which he made with the great Sri Lankan bowler Muttiah Muralitharan and the former England captain Michael Vaughan, Botham told the BBC of his shock at what he saw.
"The thing that struck me most was the devastation and the way that things have been flattened and the scars of war. There's nothing there. There's no infrastructure. Everything's gone. And it appears as the LTTE retreated, they took everything with them. And if they didn't take it they flattened it. That may not be completely correct but that's the way it looked" He said.
almost no water, electricity or other basics
Sir Ian Botham said people now had makeshift homes but almost no water, electricity or other basics. The cricketers gave out some essentials to local people and showed them the beginnings of a new community centre which will teach sports to young people to spur recovery.
First trip to the North
Muralitharan is a patron of the charity building it, the Foundation of Goodness. He told reporters that if he, as a Tamil, worked with a Sinhalese person playing or arranging matches, it would be a good sign of reconciliation. But if such initiatives didn't come, he said, there might be a danger of young people in the north taking up arms again.
"Financially we are not a very wealthy country. So we need help from Western world. Whatever small way they can help, with that help we definitely give some relief to those people and bring our country back to when it was in 50s and 60s".
Help the people
He said little video footage came out of the north so few people realised what the situation there was like.
Also backing the project is the national cricket captain, Kumar Sangakkara, who paid tribute to Murali's work in backing the Foundation's tsunami rehabilitation projects in the south. Moving its work to the north, said Sanga, could transform the area and help its people pull themselves up.
Financially we are not a very wealthy country. So we need help from Western world
"They [the people of the north] have been deprived for 30 years of everything that we've taken for granted in Colombo. Sometimes Colombo seemed a world away from the war. We've never felt it as much as the communities in the North and East did. And sometimes we have to understand that we owe them our very lives and all the comforts we enjoy". said Sangakkara.
Kumar Sangakkara said such initiatives could help northern people to stay in the North and become self-sufficient there.
" ..No water,electricity or other basics"
Sir Ian Botham said the Foundation's new project was already exciting the local Tamil young people, many of whom were dragged into the war.
"They were child soldiers. Today they had cricket bats and balls. And they loved it. They had a great time. There's some talent up there. Vaughany [Michael Vaughan] and I were quite impressed with some of the kids we saw. They were exceptional". He said
Bats and tennis balls bringing joy
Michael Vaughan echoed this. He said people in Western countries tended to complain if a train was 10 minutes late. Northern Sri Lankans faced far worse problems, yet bats and tennis balls were bringing joy into children's lives.
They were child soldiers. Today they had cricket bats and balls. And they loved it

Ian Botham
The government controls access to the north very strictly. The Foundation of Goodness is one of the very few charities which has its blessing to do rebuilding work. And the Foundation is to set up a school and community training programmes alongside the sports facility.
North was deprived for 30 years - Sangakkara
Full Story>>>
B B C
NEWS SOUTH ASIA
7 March 2011
Last updated at
11:19 ET
By Charles Haviland
BBC News, Colombo
A new military headquarters in northern Sri Lanka has been built on the site of a Tamil Tiger graveyard earlier flattened by the army, it has emerged.
The construction has come in for sharp criticism.
The army says it was allocated the plot as government land and that it was unaware of "unhappiness" over the site.
The Tamil Tigers departed from Hindu traditions of cremation and built large graveyards which experts say was part of a cult of martyrdom.
In May 2009 government forces defeated Tamil Tiger rebels fighting for a separate homeland. More than 70,000 people are estimated to have died in Sri Lanka's civil war which lasted for 26 years.
The army website has a full illustrated account of Friday's opening of the new headquarters for the 51 Division near Jaffna.
The website said it was declared open "amidst religious rites and rituals".
But it did not mention that on the same spot there used to stand a cemetery built by Tamil Tiger militants but destroyed by the army last year.
Tamil nationalists have already criticised the destruction of other Tiger graveyards in past years.
A former MP, MK Shivajilingam, said he was shocked because there were about 2,000 bodies of Tiger fighters on the site and there had been twice that number of memorial stones.
"How can the government build national reconciliation like this?" he said.
But army chief Jagath Jayasuriya told the BBC that having vacated its temporary premises in a Jaffna hotel, the 51 Division had to move to government land.
He said the military had been allocated this site which was owned by the prisons department, and he was "not aware of people expressing unhappiness".
Last year the government demolished the ancestral house of the late Tamil Tiger leader, Prabhakaran.
It says its policy is to wipe out any trace of the Tigers and ensure that their violence is forgotten.
It has however built several memorials to fallen government soldiers.

---------------------------------------------------------------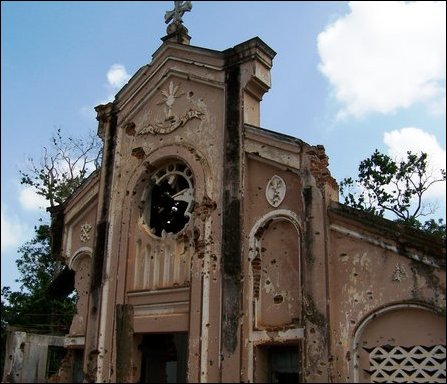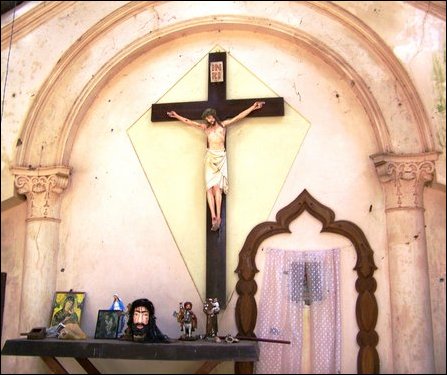 [TamilNet, Tuesday, 01 June 2010, 16:49 GMT]
Jaffna Bishop House sent an appeal to the Holy See in Vatican to urge Sri Lanka government to renovate and restore the churches in Vanni destroyed or badly damaged during the war on Vanni, sources in Jaffna said. No one except Jaffna Bishop had been permitted by Sri Lanka Army (SLA) in Vanni to see the churches in Vanni after the war and Jaffna Bishop, Rt. Rev. Thomas Saundranayagam, had been greatly shocked and distressed to find the churches destroyed and plundered, Bishop House circles said. Meanwhile, Sri Lanka government has announced financial aid for renovating the churches in Vanni where people have been allowed to resettle.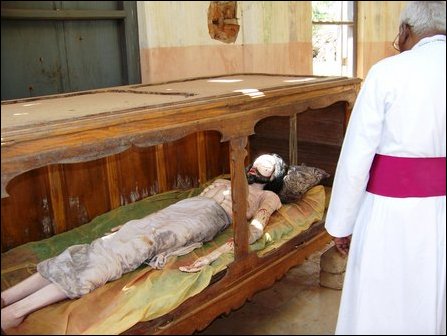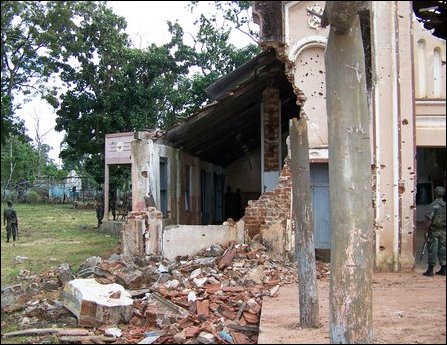 Jaffna Bishop inspecting the desecrated statue at one of the churches in Mullaiththeevu, occupied by the Sri Lanka Army